The trip up to the stage to collect our award in 2019 for the Danish Summer House is still something of a blur. There's a video of Monique doing a little jump on the stage though, should she ever try to forget…
The Design et Al Awards mean a lot to us. Especially now. With a fractured community all working from different corners of the globe, many still at home, coming together to celebrate design and awarding excellence will ensure its progression and appeal. It's a chance to take stock of the amazing work our talented community produces around the world, to learn from others and to be inspired.
About Amman Villa
For Staffan Tollgård, former film-maker turned designer, 'heartfelt minimalism' became the tag line for this epic script as he worked with award-winning Lebanese architect Raed Abillama and a team of contractors and craftspeople to create a bold and dynamic presence in a historic location.
Raed's tour-de-force reconfigures vernacular materials to break with cultural traditions. Equally, the iconoclastic brief for the interiors enabled Tollgård to play with expectations of home and to challenge the domestic scale. 14,000 square feet of home: the generous canvas of which the clients requested spaces for family growth as well as sweeping vistas for entertaining: a desire for prospect as well as refuge.
The material palette for the interiors became a red thread to bind these juxtaposed elements of public and private life and to ground the design. The house is literally set in stone: Jordanian limestone and Omani marble run through the 4 storey building, the metal and stone-clad staircase a vertical binding line to connect the volumes. Natural wood and metal accents intersect in considered geometric intervals.
Just as the material palette speaks with one voice, so too does the joinery, furniture and fabric design that adds softness and interest through texture. The guiding principle was a minimal, neutral and natural red thread that allowed the voice of the architecture and the art to resonate clearly through the four floors of the building.
Flexibility was a key requirement throughout the public ground floor, where areas needed to be closed off for smaller functions, or opened up to entertain at a grander scale. Floor-to-ceiling doors concealed in structural columns are clad with timber veneers that allow the creation of smaller, more human-sized spaces (the refuges within the vistas). The interior's ability to provide both prospect and refuge create a house with multiple possibilities: one that adapts to suit the changing needs of its family.
The final design layer was the curation of an art collection comprising strong, bold works; pieces that would stand the test of time and become as important to the interior as the building blocks of the architecture.
"This is one of the projects closest to my heart. Architecturally, aesthetically and personally. Working with renowned architect Raëd Abillama has been one of the highlights of my career. Our incredible, creative and inspirational clients have become dear friends, and it is our pleasure and our privilege to have helped design a home that gives their family joy."
Founder and Creative Director
How can I vote?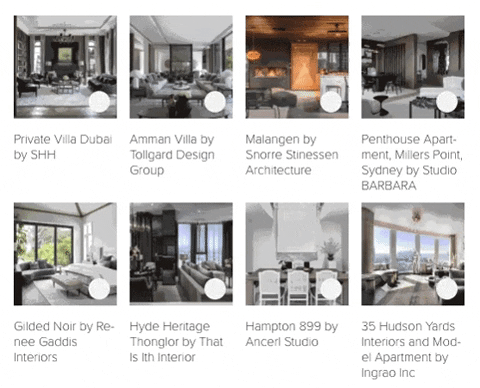 You can vote for us over on The Design Awards website here. We would be so grateful if you could spend 10 minutes browsing through some incredible design and voting for this beautiful home. We are so proud of this project and hope you can help us make one more trip up that stage… thank you so much.